The RISE Program is now closed. Please call Housing & Community Investment at 888-345-2246 for assistance.
What is the RISE Program?
Helping Businesses Rise after Economic Hardships
The RISE Program (Responsive, Inclusive, Supportive, and Empowering) is a program offered by the FHLB Cincinnati in response to the COVID-19 pandemic's impact on small businesses across the country. The RISE Program will offer up to $2 billion in six-month Advances at zero-percent interest, for a limited time, beginning May 1, 2020 at 10 a.m. EDT. These Advances can be used to support COVID-19 related assistance by all Fifth District members, including loans originated by member financial institutions under the Coronavirus Aid, Relief, and Economic Security (CARES) Act, as well as loans to support members' customers who have been directly impacted by COVID-19.
What is an eligible project?
RISE funding is available for use by members in meeting their COVID-19 related liquidity needs, as well as the needs of their customers. Examples of eligible uses include the following:
Funding Small Business Administration loans as prescribed under the CARES Act to the pandemic.
Assisting mortgage servicers with required investor remittances during borrower forbearance periods.
Supplementing other delays in payments and facilitating other activities to supplement cash flow disruption of members and their customers.
Insurance companies may use the Advances for activities such as deferring premium payments.
Providing working capital to small businesses for needs such as lease payments and payroll expenses.
Other COVID-19 related activities.
The Bank will rely upon the Small Business Administration's definition of a small business to determine whether a business qualifies under the RISE Program. The SBA definition of a small business is industry specific and tied to the number of employees of a business. The SBA assigns a size standard to each NAICS code. Most manufacturing companies with 500 employees or fewer, and most non-manufacturing businesses with average annual receipts under $7.5 million, will qualify as a small business. A business qualifies as a small business if it meets the definition in section 3(a) of the Small Business Act (15 U.S.C. 632(a).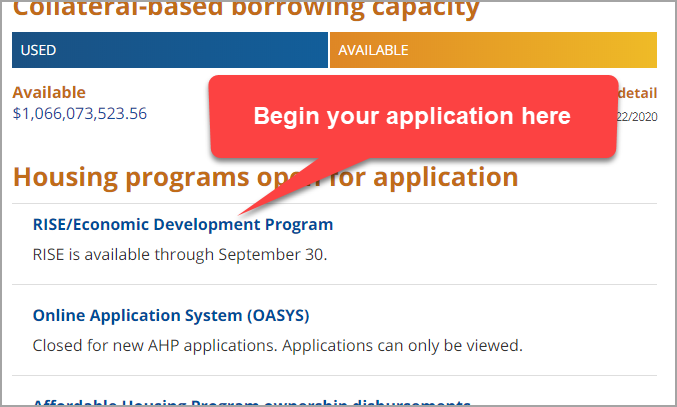 Log into Members Only, and click the "RISE/Economic Development Program" link on the front page to start your application.
How to apply?
A member may submit a RISE application using the RISE/Economic Development Program(EDP) application. To access the RISE/EDP application, a member must log into the FHLB's Members Only website and then select the RISE/Economic Development Program link in the Housing Programs section.
Pricing and member limits
The RISE Program provides Advances at zero percent interest rate for a term of six months. RISE Advances are available on a first-come, first-served basis and are not pre-payable or renewable. All members are eligible to receive the lesser of: one percent of their total assets, as of December 31, 2019, or $5 million in notional Advances. Funding under this program will be available from May 1, 2020 through September 30, 2020 or until the funds are exhausted, whichever occurs first.
Application guidelines and processing
Member institutions applying for RISE Program Advances should submit an application using the RISE/EDP application link and describe the eligible activity for which the funds will be used to the Housing & Community Investment Department. Applications are typically processed within two business days of submission. After the member's receipt of an approval letter, the transaction is treated as a normal credit transaction that requires the completion of the RISE Advance application for submission to the Credit Services Department. Funds are disbursed into the member's Demand Deposit Account with the FHLB. RISE funds must be drawn on or before the program closing date or the date the funds are exhausted, whichever occurs first.
Additional information and technical assistance
For more information on the RISE Program, contact the Housing & Community Investment Department at (513) 852-7680 or toll-free at (888) 345-2246.
For FHLB's Members Only assistance, please contact our Service Desk at (800) 781-3090.