Huntington and HER Cincinnati awarded Community Partnership Award
In Cincinnati, Huntington National Bank and HER (Housing, Education and Recovery) Cincinnati received one of 2022's Community Partnership Awards, which presents four FHLB Cincinnati members a $5,000 grant to benefit a nonprofit organization or community initiative. The awards should support one or more of four core focus areas: affordable housing, economic development, education and wellness.
"Huntington and HER Cincinnati are doing great work in our local community," said Andy Howell, President and CEO of FHLB Cincinnati. "We are honored to award them one of our inaugural Community Partnership Awards of $5,000."
This $5,000 grant will support HER's Cincinnati Scholar House, an affordable housing community designed to provide stable living and learning environments for low-income single parents and their dependent children while the parent attends post-secondary classes.
"What attracted Huntington to HER was its long-standing mission of empowering women and serving the community, which aligns to one of our core values of improving the communities we serve," said Susana Chamlee, Senior Vice President and Product Group Manager at Huntington. "We are proud of the partnership and all the women we have helped."
By providing this support, Cincinnati Scholar House assists parents in achieving full-time employment and economic stability, helping to break the cycle of poverty two generations at a time.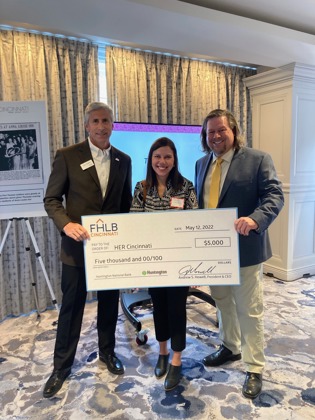 It's a mission that's fueled by partnerships like the one HER Cincinnati has maintained with Huntington for nearly a decade.
"Our partnership just really demonstrates Huntington's commitment to community and making a difference in the community and they do that by supporting organizations like HER Cincinnati and others who are on the front lines doing the work," said Beth Schwartz, President and CEO of HER Cincinnati. "We can't do it without partners like Huntington and others that join us by believing in our mission."
With over ten percent of operating fees coming from grants and monetary donations, HER's partnership with Huntington facilitates a crucial piece of funding.
"There are no fees for the Scholar House; there's no money that comes in from other sources," said Schwartz. "We have to raise all of the money to operate the supportive programming through grants and fundraising like the Community Partnership Award. It's very important to us."
Alongside the Community Partnership Award, FHLB Cincinnati sets aside 10 percent of net earnings to help finance affordable housing throughout Ohio, Kentucky and Tennessee.
"Huntington has worked with the FHLB's AHP, CMP, Welcome Home and Disaster Reconstruction Programs. We appreciate the availability of these programs in meeting critical housing needs and the support from FHLB staff," said Eric Stachler, Community Development Professional at Huntington National Bank. "We have a strong relationship with the FHLB and that relationship allows us to help create and maintain affordable housing across Ohio and Kentucky."
Through FHLB Cincinnati partnership members, those members can, in turn, continue to make an impact on the communities they serve.
"Organizations, communities and people are ever-evolving, and the last few years demonstrated how important partnerships are to serving people," said Chamlee. "Our relationship with HER will continue to evolve to best meet the needs of our community."