Community Partnership Award Benefits Habitat for Humanity of Henderson, Ky.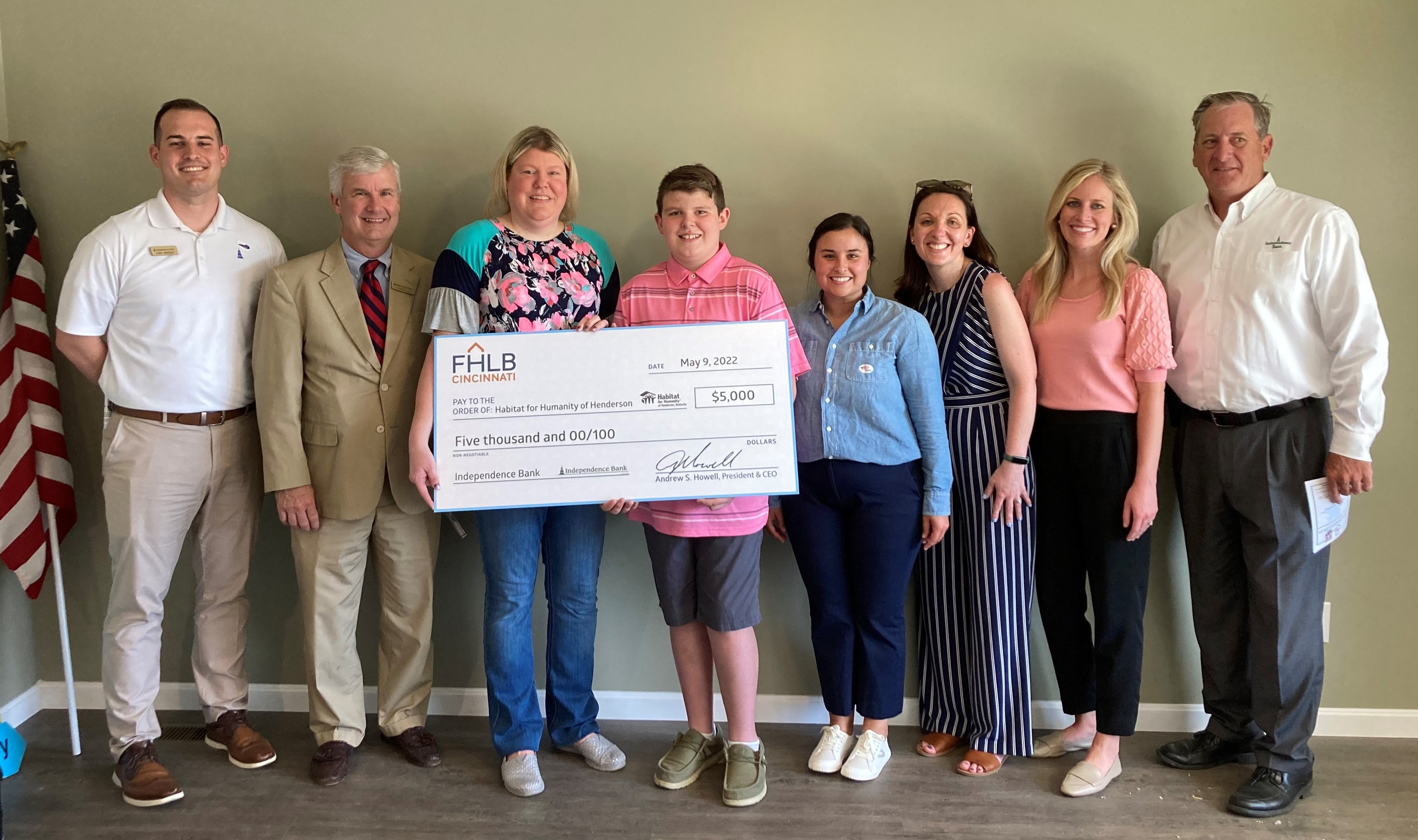 One of FHLB Cincinnati's Community Partnership Awards this year was awarded to Independence Bank for the benefit of Habitat for Humanity of Henderson, Ky.
This grant will directly benefit the Henderson community, giving back through programs such as Habitat's Voucher Program and this year's new American Flag Fundraiser.
The Community Partnership Awards present four FHLB member institutions a $5,000 grant to benefit a nonprofit organization or community initiative. These awards support one or more of four core focus areas: affordable housing, economic development, education and wellness.
As a cornerstone of the Henderson community, Habitat has been around for 31 years and their partnership with Independence Bank has existed just as long.
"The partnership is one that is longstanding and ever-evolving. We believe that Habitat is an important organization in every county that they serve. The work that they do is truly incredible," said Kelsey Hargis, Community Enrichment Officer at Independence Bank.
It's a partnership fueled both by monetary donations – like the $5,000 2022 Community Partnership Award from FHLB Cincinnati – but also driven by the bank's volunteer efforts.
"Our partnership with Independence Bank is mission in action. The bank not only supports us with money but also supports us with their time and effort," said Britney Smith, Executive Director of Habitat for Humanity of Henderson, KY.
From sponsoring an entire home build in Henderson to sending employees to help complete that build, Independence Bank believes in Habitat's mission and the impact they make on the community.
"It's something you don't think of in a community like Henderson, but there is such a need. To be able to fulfill those needs is really a great cause," said Hargis. "Habitat and Independence Bank are really community driven."
The importance of supporting our local communities is the thread that strings Habitat, Independence Bank and FHLB Cincinnati together – the very thread that hits at the core of FHLB Cincinnati's mission to help our members expand and facilitate both housing finance and community investment.
"FHLB has the same community mission to give monetary funds where they can. That can truly, in turn, benefit the community," said Hargis. "We are looking forward to progressing this partnership, doing good in our community and seeing where this goes."
The Community Partnership Awards are among many of the outreach efforts FHLB Cincinnati extends throughout our district. With ten percent of net profits going towards affordable housing, FHLB Cincinnati plays a vital role in supporting economic development and affordable housing initiatives throughout Ohio, Kentucky and Tennessee.
News & Events